Red Team Testing
Test your organisation's capability to detect, respond and recover from attempted intrusions.
Effective, combined, real-world attack methodologies.
What is Red Team Testing
Technically, a Red Team is an independent group that challenges an organisation to improve its effectiveness by assuming an adversarial role or point of view – seeing the organisation through an adversary's eyes. In a cyber security context, a Red Team is a group of ethical hackers that design and execute a series of coordinated technical and social engineering attacks on an organisation's people, process and technology to simulate how an intruder could obtain unauthorised access to its systems or information assets.
The premise of Red Team Testing is "know thyself". Verify your defenses against simulated attacks. Until you try and break into your home you will never know the effectiveness of your home security system. A Red Team test will do just that to your business. It will demonstrate the effectiveness of your overall information security management system.
In a Red Team engagement, our ethical hackers will engage in a series of attack scenarios to identify and exploit vulnerabilities in your people, process and technology, verifying the security baseline you believe you have established for the business. You don't know what you don't know until you test what you think you know.
Red Team Testing service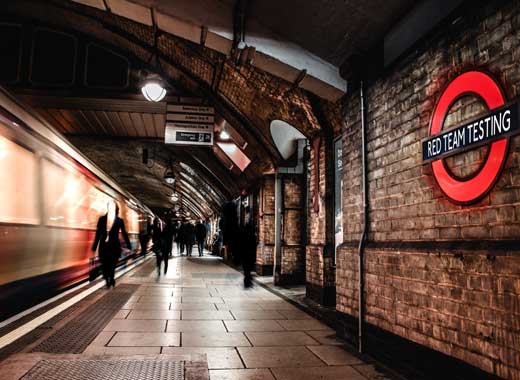 The Risk Crew Red Team Testing service creatively challenges your business' information security plans, polices, procedures, personnel and preconceived notions. Live real-world attempts to get unauthorised access to your data will validate the effectiveness of your cyber security strategy. Are you ready?
The service combines technical security penetration methodologies against your systems with no-holds barred social engineering attacks against your workforce that try to circumvent your detection and prevention controls and gain access to your information assets. Attacks are specifically designed to validate the effectiveness of your incident identification & response practices; giving you a hackers view of your information and cyber security defences.
Risk Crew's Red Team members are highly skilled at identifying and exploiting weaknesses in people, process and technology. Our experienced engineers hold CREST, C√SS, C│EH and GIAC credentials and many hold ISACA CISSP, CISM and CRISC certifications ensuring they consider and address your business objectives throughout the testing cycle. All of our consultants are subject to full, initial (and ongoing) background security checks.
What do Red Team attacks include
Each one of our engagements is unique in scope, the attacks are individually designed to test your organisation's people, process and technology. The testing involves simulating attacks across a range of potential entry points, from 3rd party connections to web applications to both front-end and back-end systems to accessing facilities and manipulating employees for unauthorised access to information.
Rules of engagement are developed in collaboration with you and all activities are coordinated with the appropriate stakeholder to ensure objectives are clear and business disruption does not occur.
Upon completion, the Risk Crew Red Team will generate a detailed and comprehensive report of their findings and recommendations for improvement, providing time and date stamped, visual and audio evidence of successful penetrations. Additionally, our Team will recommend applicable key risk indicators to be used to identify similar attacks in the future.
Benefits of utilising a Red Team service
A good Red Team service gives your organisation a real-life measure of its capability to identify real threats to real vulnerabilities and in real time, in order to prevent or appropriately identify and respond to unauthorised access attempts. A good Red Team engagement will both validate the effectiveness of your existing controls and identify previously unrecognised vulnerabilities in the people, process and technology you depend on to protect your information assets. Knowing your weaknesses is more important than knowing your strengths.
Frequently Asked Questions about Red Team Testing