GIVE YOURSELF AN HOUR OUT OF YOUR DAY & ENRICH YOUR KNOWLEDGE
Get Informed With Risk Crew Webinars
SOC-IT-2-ME
Webinar Series
SOC 1, 2 or 3 – Know the Difference
What's the difference between SOC 1,2 and 3 and why is there always just one in the tumble dryer? Join this webinar to find out.
Information security is critical for all organisations, especially those that outsource key business functions to 3rd party SaaS or cloud providers. System and Organization Controls (SOC) is an auditing procedure that ensures service providers securely manage the data they process, store or transmit for their customers.
SOC is a basic requirement for organisations to consider when selecting a service provider and for service providers to comply with. But what is it exactly and what specific assurances does it provide? Join us for an in-depth discussion of SOC and its benefits.
DATE: 18 May 2021
TIME: 2:00 pm (GMT)
This webinar will cover:
What is SOC?
What is the difference between SOC 1, 2 & 3?
What are the types of reports for each?
What are the 5 Trust Service Principles?
Which SOC is right for your organisation?
What are the commercial benefits of compliance?
Interactive Q&A
SOC 2 Type 2: How to Prepare for the Audit
Established by the American Institute of Certified Public Accountants, SOC 2 defines a governance framework for managing sensitive customer information based on 5 Trust Service Principles. Unlike other compliance frameworks, which have prescriptive control requirements, SOC 2 compliance reports are unique to each individual organisation assessing their specific business processes against the 5 Principles. This is the strength of the framework. The question then is: How do you prepare for an audit that is bespoke to your business processes? The answer is – attend this webinar.
DATE: 15 June 2021
TIME: 2:00 pm (GMT)
This webinar will cover:
Scoping the report – getting it right
What stakeholders need to be involved?
What policies will be important?
What are the critical technical security controls?
The importance of control mapping
What evidence should we be able to produce?
The auditor's perspective
A typical timeline
Interactive Q&A
ON-DEMAND WEBINARS
FARE THEE WELL EU: ADEQUATE DATA PROTECTION 2021?
Webinar Series
Conducting DPIAs: The Key to Unlocking Data Protection Compliance
What's a data impact assessment? When should I conduct one and why? What is the value of my compliance efforts?
Join this webinar to get these answers and the opportunity to ask your other pressing questions surrounding the unsung DPIA tool – that is the key to DPA and GDPR compliance.
Risk & Compliance Predictions for the Year Ahead
If change is the only constant in cyber security, then what will the year ahead of us bring? How can we prepare for ever-evolving threats?
Find out in this insightful session with Jonathan Armstrong, a seasoned lawyer with a concentration on technology and compliance, from Cordery Compliance Ltd. Johnathon will walk us through data protection and threat predictions for 2021 based on his experience of handling some of the most significant data breaches and regulatory investigations over the last 30 years.
DATA PROTECTION & PRIVACY
Webinar Series
What Data Flow Mapping Looks Like and How to Start
Both UK Data Protection Act 2018 and GDPR compliance require that organisations document how the personal data they process is transferred from one location to another. It is also the first critical step in conducting a DPIA to identify and address the associated security risks in this process. Our Data Protection Sage (and Amateur Brewer) Andy Whitaker provides practical advice and gives a demonstration on how to get this done.
How to Conduct a Data Privacy Impact Assessment (DPIA)
What is a Data Privacy Impact Assessment? When do you need to conduct one? Join us for this pragmatic and informative webinar hosted by our Data Privacy & Protection expert, Ursula Baye. Ursula discusses the goals and objectives of this critical data protection requirement. She walks you through a simple step-by-step demonstration of how to conduct a DPIA followed by a question and answer session.
How to Implement Data Protection by Design & Default
Do you understand the principle of Data Protection by Design & Default? Does your organisation adhere to this much over-looked data protection requirement? Watch this useful, straightforward webinar hosted by our Data Privacy & Protection expert, Andy Whitaker. Andy discusses the goals and objectives of this essential principle and provides some practical advice for ensuring it's included in your data protection programme.
Data Protection: What Constitutes 'Evidence of Compliance?'
Are you compliant to GDPR & DPA 2018? How do you know? Can you prove it?
This practical webinar is hosted by our Data Privacy & Protection expert, Andy Whitaker. Andy discusses the use of key performance indicators to implement and monitor in order to ensure you can demonstrate compliance.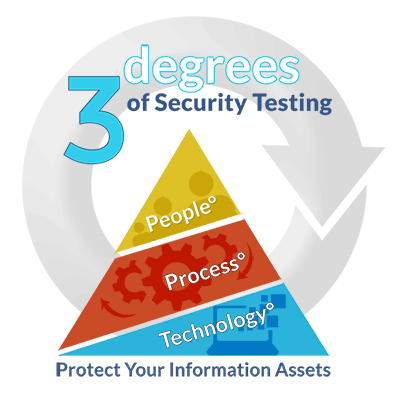 3 DEGREES OF SECURITY TESTING – People, Process & Technology
Webinar Series
Holistic Security Testing in the New Threat Landscape
Ever wanted to know what Holistic Security testing involves and how it can help create a strong defence against the evolving cyber threat landscape?
Download this webinar hosted by Geoffrey Bougnague and Richard Hollis. Stay tuned for the last 15 minutes, when they open the floor to attendees for security testing questions.
Did you know that human error caused 90% of UK data breaches in 2019, according to the ICO?
Download this webinar and find out how to mitigate this imminent threat with current best practices and training methods for the workplace – whether that is in the office or at home. Plus, you'll get insight from a security testing expert who will take you through three social engineering attacks to perform on your staff to identify vulnerabilities.
Do you want some practical advice on how to get a better return on your security penetration testing investment?
Download this webinar to hear from our penetration testing expert, Richard Hollis discussing how you can receive full benefits from your penetration testing.
Be sure to stay tuned for an interactive questions and answers session at the end.
7 Things to Include in your Testing Supplier's SLA
A security penetration testing service is too critical to leave anything to chance. Get it in writing.
Download this webinar hosted by, Geoffrey Bougnague for 7 key things to ensure to include in your testing provider's service level agreement.
Plus, get your free copy of our complimentary Service Level Agreement Checklist!
CYBER ESSENTIALS SERIES
Webinar Series
Achieving Cyber Essentials Plus
Join us for this webinar, hosted by our CE experts who will discuss the benefits of achieving Cyber Essentials Plus and provide 5 tips on how to attain this valuable cyber security certification. You'll also get an in-depth insight into how to prepare for the audit process and manage timeframes from our CE certifying assessor. The webinar will be followed by a question and answer session.